Well, blow me down!
We got to see the captain and crew in action as we boarded their 17′ skiff and headed out to the Sundance, a 72-footer that' been retrofitted to take people on luxury Alaska cruises.
What were the coolest things?  The boys said 1) being up top with the captain, monitoring the radar and the ship's coordinates while listening to radio communication by the Coast Guard; and 2) sleeping below deck in the cabin berth, just as real sailors—for example, pirates with swords and eye patches—do.
I loved the galley kitchen, which was HUGE.  But cooking at sea whilst tossed about by waves was a new challenge.
But could the Olympic Peninsula, Whidbey Island, and Puget Sound have been any more beautiful?
We all agree that our passage through the Ballard Locks in Seattle was a memory we'll cherish.  We'd only ever seen a dorky film about how pleasure craft can pass through the Cascade Locks of the Columbia River.  This time around, we were the movie:  there were 40 or 50 tourists and locals surrounding us on three sides, snapping photos and filming us as the gate shut and the water level rose around the Sundance.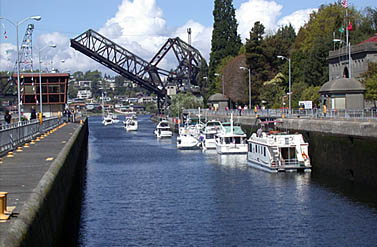 The boys now want deckhand jobs when they get older.