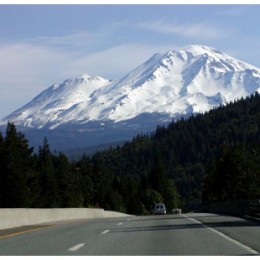 Today was crisp, clear, and cold as we headed through Oregon and into Northern California. Mt. Shasta shone a brilliant white under blue skies, and off in the distance, the chain of peaks making up the Lassen Volcanic National Park beckoned to us.
Our car is stuffed with holiday gifts, bottles of eggnog and booze, and a variety of learning materials and games for the cold, indoor month to come in Plumas County.
Did I mention we love California?
One item NOT accompanying us is the boys' Christmas present. A heavy thing, if I may say so. I'd been asked for three years if I could please give it to them…and I always answered with an emphatic no.
But here it is. I managed to get it at the Lego store for 10% off.   Does the discounted price even begin to erase my feeling of hypocrisy, that we were in an impoverished area of Central America for 3 months where some workers get less than $2 an hour, and north of there, where we were in Nicaragua, a great many people have to survive on $1.15 a day?
Does buying a 3000-piece set make me feel like a wimp who totally caved in to my kids' obsession with Lego?
All I can say is this:  The boys—like their mom—dealt with a lot in Central America.  Change.  A huge drop in our standard of living and in our creature comforts.  New faces, new ways, a new language, and a dialect that didn't match what we were hearing on Rosetta Stone.  A hot climate with innumerable bugs that managed to get into everything.  Most of the time, and often when I didn't expect it, the boys were real troopers.
The Death Star just needed to happen.  It's now part of our family, along with one ancient blue Blankey and three special stuffed animals we won't easily part with.
So we will ring in the Solstice with tamales, mojitos, music, and laughter up in Plumas County, sans our most lavish Christmas acquisition.