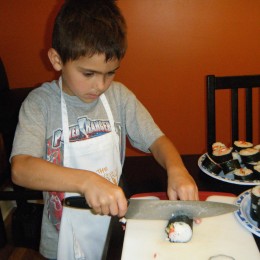 Portland, Oregon — a foodie's dream.
Well, what if you're young and want to train to become a foodie?  What if Iron Chef America is more your show than Transformers, Spiderman, or even Spongebob?
Never fear, Julie Merry at The Merry Kitchen has a class for you.  She'll coach you through four different dishes, with themes like Harry Potter, Twilight, Star Wars, or…yes, even Spongebob.  Or she'll design a private 2-hour cooking class with your requests.  In the class, you'll learn why Julie Merry does not own a microwave.  You'll slice, dice, mince, mix, time things, add seasonings, and think about presentation and coordination.  You'll come away a happy kid.
Hey, Portland food scene—your heirs are waiting right here in Northeast, gearing up to be the next generation in the culinary arts.  [Julie Merry, I think you are on to something.]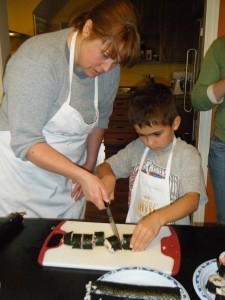 We had so much sushi left over that we didn't even need to cook dinner later on.  Bonus!