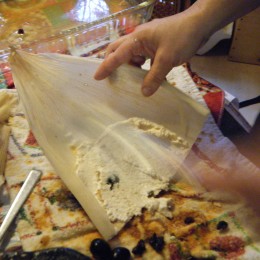 I would normally never have associated tamale eating with the Sierra mountains of California.  But it seems to be a common thread among our California hosts.
There was a highway closure due to rockslides, one of which was fatal.  So I got the call:
"Can you bring a whole lot of premade masa on your way up here?"
"Uh, sure.  Where do I get it?"
Several stores and questions later, I was laden with 25 lbs. of chilled masa, heading up the twists and gorgeous turns of Highway 32.  It started snowing like mad one hour after we arrived.
The masa was soon put to work, mixed by hand with enormous quantities of pork drippings, then spread onto softened corn husks before a dollop of roasted pork shoulder, gravy, black olives and a sprinkling of raisins rounded out the blend.  Then the tamale was folded over and set in a Ziploc for freezing, to be steamed and eaten on Christmas.
We had a vegetarian version, a green chile one, pictured here.
We learned that you have to make them fast, but also make them carefully…too much masa on one end means they'll never get done steaming. Too much filling means it won't seal.
Taylorsville Tavern is famous for being from the gold rush era, and boasts one, maybe more, murders with a rumored ghost who haunts the back of the tavern. Nowadays it's more famous for its colorful local barflies, men who came here not for gold but other commodities such as timber and cattle ranching.
We grownups enjoyed an open mic night there, honoring my hosts' friend, who was killed nine days earlier in the rock slide that had closed the highway we would have taken up here. The tributes were poignant, often funny, and heartfelt.