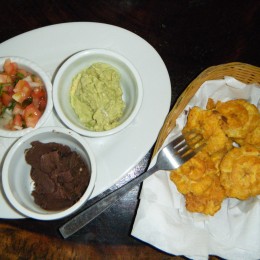 There were a few things we needed to do before departing our village in Costa Rica.
One was to sample an order of patacones, the twice-fried plantain slices that are Central America's answer to the French fry. Unlike French fries, you get to enjoy these slices of deep-fried heaven with pico de gallo, guacamole, and tasty black bean dip.  This was a lovely departure from the usual fried ripe plantains, which are more gooey, pan fried in oil rather than deep fried, and much more banana-ey in flavor and texture.
The boys hated regular old fried plantains, so they wrinkled their noses at my beloved order of patacones (pictured here).  And that was just fine…more for their old mother! They say youth is wasted on the young.  Sometimes, so are great culinary delights.
Another item on my personal "bucket list" was to have one escape from village life…an afternoon spent in a swim-up bar at the Gringo-filled, pseudo-Costa Rican place we'd been to a couple of times in the very beginning of our stay——in the artificially created tourist enclave of Flamingo.
The boys swam and ate cheeseburgers and fries and drank mango smoothies while Stacy and I had rounds of Miami Vice cocktails (half piña colada, half strawberry daiquiri) and fiery buffalo wings. Later on, we shouted kamikaze shots back and forth with a terrific group of Americans on vacation from Baltimore.
I suppose that I'd avoided the place for weeks and weeks mostly because it wasn't reality. It was a place with Western prices and Ticos not there as fellow villagers, but as wait staff (and other Ticas, sometimes seated at the bar, as…working girls).
But the swim-up bar and burgers were a huge draw for the boys, so we all enjoyed an afternoon there.  We even got to feed maraschino cherries to the local iguana.  He's a bar regular; it was hilarious to watch him gobble up each cherry.
Next on our list? A trip up to the highest point around, to the white castle that has been under construction for several years. The owner is some crazy old guy from Germany, so I am told. Locals don't seem to understand why he would want to live all the way up there where the winds are quite strong and it's a long, bumpy drive on unpaved, potholed roads to get anywhere.  It turns out that the German fellow has never lived there.  Locals says that the man jokes that once his castle is completed, and liveable, he will start a search for a wife.  Sadly, after coming to know the scruples of some of the working-girl population in the area, I imagine they'll be lining up to wed the guy (à la Anna Nicole Smith & that billionaire old geezer from Texas).
But no matter.  We managed to get transportation up to the cool castle we'd always looked up to and pointed at as we walked the muddy village roads far below.  The 360-degree views from the white tower, of jungled hills, endless ocean and our two sparkling bays, were out of this world.