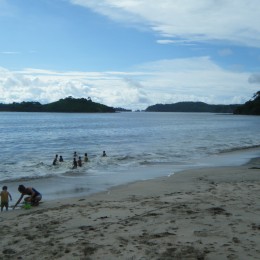 We arrived on a sunny, humid afternoon in Liberia, Costa Rica, thus commencing our international roadschooling experience.
Everyone—the immigration official, the customs people, the shuttle driver and helper, the ESL program directors, and our host family—welcomed us warmly.
Our shuttle ride to the village was a brand new experience of narrow roads, some of which are unpaved, full of potholes, and muddy from all the rains.  The "green season," as it's called, is going to go all the way until November.  Good thing we've been living in the Pacific Northwest, right?
The boys were surrounded by neighborhood kids, all of whom came along when we headed to the beach to take a look and have a little swim.  The photo is actually of the boys and their new entourage of Spanish-speaking peers, all playing in the waves.
The sand on this beach is unreal—like walking on wedding cake, I e-mailed one of my friends.
But we later learned that the villagers seldom go to the beach, and if they do, it's usually on a Sunday afternoon when church or a family barbecue has happened.  We can't believe that such a beach, such a clean and beautiful place, isn't packed with people every single day.
We're learning that many people here don't have the conveniences that we are used to.  Buses here don't run on a set schedule; one has to wait and wait for a bus to appear.  It is unlikely that the local roads will be paved in the near future.  There are no sidewalks for pedestrians, and we are carless.  The local market offers a lot, but not in the familiar ready-to-eat way——some family member has to take the items a couple of food prep steps further.
The boys are without 99% of their toys.  We are without a phone, too.  That's right—-no room full of stuff from Target, Toys R Us and the bookstore.  No handheld gadgets.  There's a New World Order:  unplugged kids and a much more unplugged mom.   It's time now for our feet to get better acquainted with the wedding-cake sand of this beautiful playa.