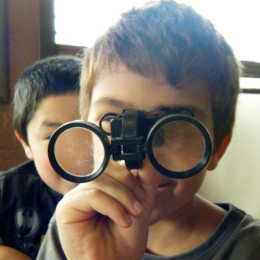 We've been without our own four walls since late July, either camping out of our car, staying with great friends, using Priceline hotels, or renting places in Central America.
And we were all set to keep going, make our way to Europe, and find month-to-month or weekly apartment accommodations in England, France, Germany and the Czech Republic.
But here's the problem…we've kind of run out of steam.  The boys miss some of their friends.  I miss the days when they learned alongside other kids.
Homeschooling, or in our case, unschooling, has opened our eyes and minds to a new way of learning—interest-driven, location-driven learning.  But we're a minority wherever we go, mostly because it isn't easy to link up with other homeschoolers in different communities.  So, the boys have leaned heavily on each other since last summer.
Now, though, we have decided to sign up for classes for homeschooled kids for the next ten weeks.  For the 10 and up crowd, there are great offerings such as Photoshop for Kids, Latin I, History Through Archaeology, Lego Robots, Mechanical Drawing, Zine & Comic Making, and Explorations in Veterinary Medicine, along with science, language arts, math, public speaking, and my favorite prospect, Alice Animation.
For my younger son, there are courses such as History of the Middle Ages, Gooey Messy Science, Animal Habitats, Little Foodies, Detective Agency, Math with Tiles, Jazz/Hip-Hop Dance, Capoeira, Global Kids classes, reading and folk tales.
The best news?  These classes occur on two and a half days each week.  We get little to no homework infiltrating our home, and we will have Fridays through Mondays to unschool—the majority of the week.
Also wonderful is how the program anticipates parental presence and involvement.  It's not a "drop your kids off and drive the hell away" type of environment.  Back when my children attended public school, I always felt a disconnect from their day. Whenever I signed in to visit them in class or bring their birthday cupcakes, I always felt alien to the place, even though my flesh and blood were spending 32.5 hours, or a whole 1/3 of their waking hours, in that elementary building.
We now will take part in classes where parents are always welcome.  One drama class even has a policy in which any parent visiting the room will automatically be made into part of the day's skit, as there is a no-spectator rule.
I have enabled us to learn in freedom for the last six months.  But I don't see classes, or classrooms, as bad.  I also don't view educators as detrimental, so long as they don't hold the threat of grades over the children's heads, and so long as the classroom is democratic and respectful.  Many homeschooling families lean on supplemental classes in the community to give their kids a well-rounded experience.  But what I've always had issue with is the family who sends a child to school for six or seven hours a day, only to have to head straight to Kaplan and Sylvan and art classes, sport activities, music lessons, and other events that rightfully should have, and in an ideal world could be, conveyed in those six or seven school day hours.
I say there is too much time in the regular schools spent on morning announcements, lining up, listening to the Charlie Brown-teacher whahh-whuh-whuh-whah-whah-whah, and doing 3-R's-style busy work.
And I also say that an unschooling parent like me, who is relatively unstructured and lax (despite being an inquisitive person and globetrotter!), NEEDS to give her children an environment with adults and kids who use an organized, more structured framework to approach the learning experience.
Let's hope that our new enrollment in the homeschool collective yields us a great deal of social connection, new thoughts, new skills, and new & like-minded friends.